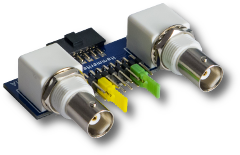 Product Summary
Order Code
MP01A
Description
Dual channel BNC adapter for BitScope Micro. Includes 6 logic inputs and switchable waveform and clock generator outputs.
Comment
for Bitscope Micro.
Price
Product Information
MP01A is a dual channel BNC adapter for BitScope Micro. It allows the use of industry standard oscilloscope probes. It also supports simultaneous use of the logic inputs and connection to the waveform and clock generator outputs.
The BNC sockets are supplied with ring nuts and washers so MP01A can be bench mounted. The logic, waveform generator and clock signals appear on the 16-pin header between the BNC sockets.
The analog inputs are replicated on the 16-pin header and every input has an associated ground pin below it (for twisted pair connection). Two terminator plugs are included to ground any pair of inputs or to route the waveform generator and/or clock outputs to the BNC sockets. The adapter connects via the BitScope Micro Diagnostic Port allowing 1:1, 10:1, 100:1 and other standard attenuating oscilloscope probes as well as current, differential or any other type of BNC terminated sensor designed for use with 1MΩ/20pF oscilloscope inputs. Read More...
| | |
| --- | --- |
| Feature | Specification |
| Analog Inputs (Standard Probe) | 2 |
| Analog Inputs (Twisted Pair) | 2 |
| Logic Inputs (3.3V/5V) | 6 |
| Comparator Channels | 2 (via analog inputs) |
| Waveform Generator | 1 (via L4) |
| Clock Generator | 1 (via L5) |
| Input Impedance (Analog) | 1M Ω / 20pF |
| Input Impedance (Digital) | 100k Ω / 5pF |
| Voltage Range (Direct) | -7.5 V ~ +10.8 V (1:1 probe) |
| Voltage Range (Scaled) | -75 V ~ +108 V (10:1 probe) |
| Device Connection | IDC-10 (Micro Port) |
| Power Requirement | None |
| Operating Temperature | 0 °C to 40 °C |
| Storage Requirements | -40 °C ~ +40 °C / 5 % ~ 95 % RH |
| Dimensions (W x D x H) | 60 x 50 x 20 mm |
| Weight (Net) | 28g |
EL16D | E&OE