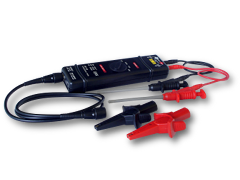 Product Summary
Order Code
PRB-06
Description
25 MHz 200:1 50:1 20:1 (switchable), 4MΩ/1.2pF, 1.3kVpeak/kVrms, probe and clamp accessory kit.
Comment
Switched Attenuation.
Price
Product Information
PRB-06 is an isolated active differential probe compatible with all BNC terminated BitScopes. It is the recommended choice for safe, accurate floating reference measurements especially at elevated voltages such as in power supplies & amplifiers, transmitters and electrical machinery.
Connection is made via leads terminated by insulated banana plugs. Alligator clips or insulated high voltage test clips used for easy connection to a wide range of test points from bus bars to component leads (both connector types are included with the probe).
The probe is active and may be battery or AC adapter powered. Three switchable attenuation ranges are available; 200:1, 50:1 and 20:1. These are supported by the BitScope DSO software application and cover a wide range of operating voltages up to 1.3kVpeak
If you do not require isolation or differential measurement we recommend PRB-02. If you need to measure voltages higher than 1kV we recommend PRB-05.
Feature
Specification
Attenuation Ratio
200:1, 50:1 and 20:1
Bandwidth
DC to 25MHz (-3dB, 50Ω load)
Common Mode Rejection
60Hz : >10,000 : 1
100Hz: >1,000 : 1
1MHz: > 300 : 1
Input Resistance
4MΩ (differential)
2MΩ (common)
Input Capacitance
1.5pF (differential)
2.3pF (common)
Maximum Working Voltage
<1.3kVpeak or 1kV RMS (differental)
<1kVpeak or 600 RMS (common)
Power Requirement
9V alkaline battery or external 6V-9V DC
E&OE